Proto.in 2008 Startup event in Delhi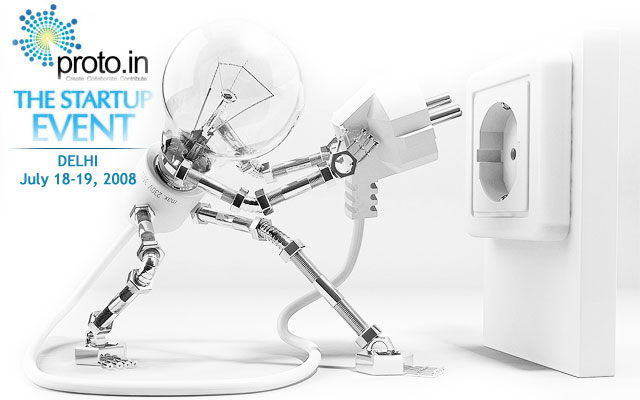 Proto.in is the premier Startup Community Event that happens in India. It is about giving entrepreneurs a platform to express their visions and showcase their imagination, with a working prototype, for the world to see. It's about increasing partnership, collaboration and mindshare among a distinguished, qualified and well-connected audience. Proto.in provides a unique platform for promising startup talent to communicate their creativity and innovation potential.
Proto.in strive by their mantra – Create, Contribute, Collaborate.
Proto.in come together once in every six months, bringing together entrepreneurs, aspiring entrepreneurs, veterans, investors, technologists, bloggers, mentors, bankers, media professionals, hackers, mavericks, students, and even folks from the government bodies such as DST, NASSCOM, TiE, IAMAI, to build a cohesive and sensible ecosystem in India.
Proto.in July (Delhi) Chapter
The Upcoming edition is finalized for the dates of July 18th and 19th, 2008 in Delhi and tentatively planned in the halls of the Indian Institute of Technology - Delhi.
How to get FREE entry to Proto.in Delhi Startup Event?
I've 5 FREE passes to give away for the Proto July (Delhi) Startup Event. Here is an easy way to win one of those.
Simply blog and spread the word about Proto.in event and send a trackback to this article. Trackbacks are automatically registered if you link to this article. However, if your trackback don't appear automatically here, do comment here so I'll know that I should be hunting inside the spam queue.
Proto '08 July (Delhi) Edition Snapshot;
Proto.in (Read above for FREE Entry)
Entry fee per person: Rs. 500
Venue: IIT, Delhi
Date: 18th and 19th July, 2008
Time: Early Morning (Come have your breakfast here)
Nominations Open: Now
Nominations Close: 30th May, 2008
Shortlist Announcement (to companies): 20th June, 2008
Press Conference in Delhi: 11th July, 2008
Entry Fee per Company (once shortlisted): Rs. 10,000
Register early as seats are limited.